We currently have suspended scrubs making
Many thanks for your interest in making scrubs for us. We would be very grateful for any items you can make. Before you start or request a free pattern, please read the following specifications.
Scrubs specification
Fabric:
Making scrubs in the correct type and weight of fabric is important. The requirements are:
100% cotton or up to 50/50 polyester/cotton only
Material weight 115gsm
Plain, dark colours preferred (patterned material is harder to inspect for staining/damage)
If you can't get plain dark fabric, lighter colours or even patterns will be accepted
Must be washable at a minimum of 60 degrees centigrade
Unfortunately we are unable to supply you with the fabric and drawstring tape.
Scrubs kits and support via Facebook:
https://www.facebook.com/groups/darentscrubbers
This independent community group are co-ordinating patterns, suppliers of fabric and loads of good advice and support.
Fabric quantities:
The table below provides a rough guide on the amount of fabric you will need for each set of scrubs depending on its size. Please check quantities yourself before ordering.
Size

Fabric
(based on standard 115cm width)

Fusible vilene*

Flat cord for the waist band
(or make a cord from left over fabric)

Thread

Small

4.5M

40cm

1.5M finished

1 reel

Medium

4.5M

40cm

1.75M finished

1 reel

Large

5M

40cm

2M finished

1 reel

XL

5M

40cm

2.25M finished

1 reel

2XL

5.5M

40cm

2.5M finished

1 reel

3XL

5.5M

40cm

2.75M finished

1 reel
* Due to the layout requirements 40cm is the minimum amount of interfacing you will need, but please note that 40cm will be sufficient for two sets.
Patterns:
Please make scrubs with a V-neck opening neck with ample space to fit over headwear, ponytails, buns etc. and preferably with cotton tape waist drawstring (elastic goes baggy very quickly in frequent high temperature washing). Here are a few links to patterns.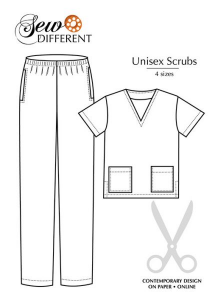 Scrubs paper pattern (with instructions) – free to download –
www.sewdifferent.co.uk/scrubs-paper-pattern-not-for-profit
Sizes:
We need scrubs in all sizes:
Small
Medium
Large
XLarge
XXLarge
XXXLarge
Please machine stitch sizes (or write in indelible ink) on the neck and waist bands as clearly as possible. It doesn't need to be machine embroidered, a couple of rows of a simple running stitch will be sufficient. Please measure garments once made before deciding what size they are.
Washing:
Some fabric needs to be prewashed to prevent shrinkage before making up, please check with your supplier. Don't worry about washing made up garments as they will all be washed before use.
How to deliver completed garments:
If anyone would like to donate these to the patients at Darent Valley Hospital (DVH), please place them in a plastic bag that is labelled with the date and your name and address so we can thank you for it!
They can be dropped off in the hospital reception (handed to the security guard) or posted to:
Wellbeing Team
Trust HQ, Level 4
Darent Valley Hospital, Darenth Wood Road
Dartford, DA2 8DA
Please contact dgn-tr.wellbeing@nhs.net to arrange for your handover
Collection:
If you are unable to drop off your made up garments, please email dgn-tr.wellbeing@nhs.net to arrange collection.